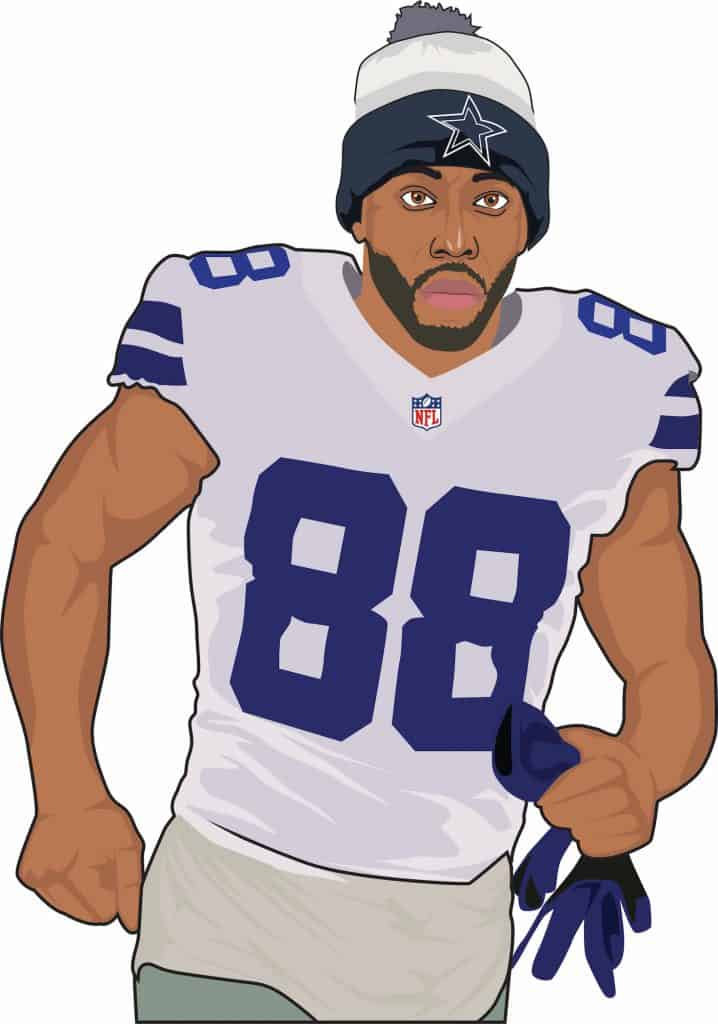 Background
Popular American football wide receiver, Desmond Demond Bryant, popularly known as Des Bryant was born on 4 November 1988 in Galveston County, Texas. He didn't have a beautiful upbringing. He was born to a 15-year-old young mother, Angela Bryant. His mother got arrested for dealing in crack cocaine when he was 8. He lived in eight different homes when he was in high school. He was sued in high school for the purchase of jewelry on credit and could not pay up. He was also arrested on a domestic violence charge for striking his biological mother.
He moved to Lufkin in Texas where he attended Lufkin high school. In high school, he played football for the Panther's football team. Bryant led Lufkin to a 14-1 record including an appearance in the 5A Division II state semifinals. He was one of the state's top competitors in the triple jump (a top jump of 14.17m). He was also a member of the 4 ×100-m "(42.62)and 4×200-m (1:28.35) relay squad.
Bryant attended Oklahoma University from 2007 to 2009 and was a member of the Oklahoma State Cowboys football team under Coach Mike Gundy. In 2007, he finished second on the team with 43 receptions at 622 yards and six touchdowns in 12 games. He had a wonderful season in 2008; he had a good number of receptions and yards. In 2009, he violated the NCAA bylaw; he refused to fully disclose his conversation with Deion Sanders, a former NFL player. He was therefore suspended in 2009. Before his suspension, he was considered the best wide receiver and a possible Heisman Trophy contender. He finished with 323 receiving yards, 4 receiving touchdowns and a punt return touchdown.
He announced his intentions to enter the 2010 NFL Draft on 5th, November 2009.






	
Nationality
American





	
Date of Birth
November 4, 1988



	
Estimated Net Worth
$32 million dollars 



	
Height
1.88m (6 ft 2 in)



	
Born
Galveston County, Texas



	
NFL Draft
2010







Contract
The Cowboys signed Bryant to a contract on July 22, 2010. He reached terms in July 2015 on a five-year contract extension worth $70 million after the wide receiver caught 41 touchdowns and nearly 4,000 yards worth of passes over the previous three seasons. He did not stay to meet up the $70 million five-year contract after leading the NFL with 16 touchdowns receiving in 2014. On that deal, he still had two years left with a basic salary of $12.5 million per season. In 2018, he signed a one-year contract with New Orleans Saints. The deal is worth 1.25 million.
HIS LOVE LIFE
The Dallas Cowboy Receiver, Dez Bryant is in love with his girlfriend, Ilyne Nash. She is a loving and supporting girlfriend. This power couples cannot but be envied for their long years of relationship. They live happily as a family even though not married. They are responsible to two children, Dez Bryant Jr, and Isabella Rose Bryant that complete the happy family. It is reported Bryant has a son, Zayne Bryant from his previous relationship. Bryant is indeed lucky to have Nash.
NET WORTH AND ENDORSEMENT DEALS
Dez Bryant was signed on a three-year endorsement deal with Nike Jordan Brand. Jordan Brand was his second endorsement deal after his deal with Under Armor, but the deal didn't last a year after signing it before he was released.
He is one of the world's highest-paid athletes. His salary is $23 million, and his endorsement is worth $500,000. And reportedly net worth of $32 million.
Another article Did Drew Brees Just Drop a Huge Hint?