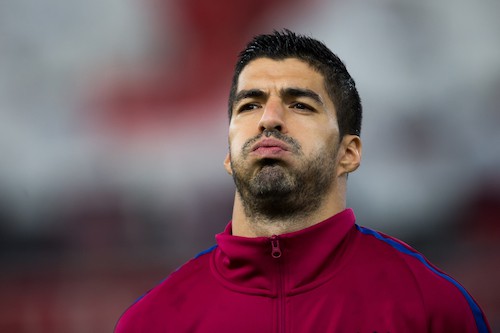 Country
Uruguayan





	
Date of Birth
January 24, 1987



	
Estimated Net Worth
$70 million dollars 



	
Height
1.82m (6 ft 0 in)



	
Born
Salto, Uruguay



	
Uruguay Senior Team Debut
2007







Certainly one of the most celebrated yet controversial footballers of the modern-day, Luis Suarez has a reputation for trouble! Despite that, he is also one of the most talented footballers of his generation, currently playing as a forward for FC Barcelona.
The Uruguayan international previously played in the English Premier League, for major club Liverpool, however his time in the English league was certainly not without low points and controversy, including hair pulling, obscene gestures to fans, and several biting incidents. Despite that, you cannot argue the fact that Suarez is a world-class player and perhaps his fiery temperament helps him remain passionate and focused on the pitch.
Net Worth – Contract And Endorsements
Born Luis Alberto Suarez Diaz, the player would go to hold the title for the third most goals scored in a World Cup, hitting the back of the net five times. His success on the pitch has led him to amass a fortune, and he currently has a net worth of around $70 million dollars. His contract at FC Barcelona is reputed to be around $20 million, with an extra $7 million earned from endorsements.
Another article on his net worth
Puma
Having been with German sportswear giants Adidas for several years, Suarez has recently changed allegiance and is now signed to Puma, in a deal worth around $1.3 million. The Puma boots Future 2.1 NETFIT FG/AG Men@s you can see here at Puma press release. And may change to new cleats with the expected release of the 20.1 editions.
He announced the deal in August 2018, appearing in a Wild West-themed video. In addition to this sponsorship deal, he also has deals with Beats and in his home country, he has also starred in several adverts for big named brands such as Cablevision, Pepsi, Samsung, Garnier, Abitab, and Antel.
With several years of playing still in front of him, Suarez certainly makes the most of his amassed fortune and uses most of it to fund his hobby passion – cars! Currently the owner of some of the most luxurious cars on the planet, Suarez is the proud owner of a Range Rover, BMW, Mercedes Benz, and a Ferrari. He is thought to have nine cars in total, with them adding up to a total of a cool $3 million! Suarez also maintains a residence in Montevideo, Uruguay, as well as his home in Barcelona, Spain.
Currently playing alongside some of the world's best footballers, including the great Leo Messi himself, Suarez can certainly count himself in that very same company, and with a very celebrated history of hitting the back of the net, along with some of the best performances for FC Barcelona, Suarez's career is sure to continue on for several years to come.
Another article – Cristiano Ronaldo – Nike CR7 Cleats