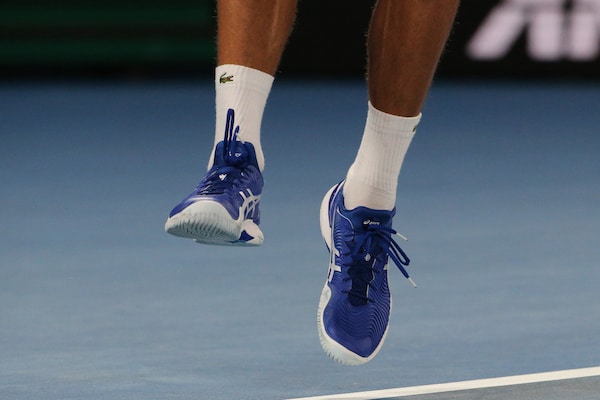 Tennis is one of the most popular sports on the planet, and with the biggest tournaments and Grand Slams adoring our TV screens, many budding players want to wear the best tennis shoes as their heroes.
A pair of regular sneakers or trainers are not going to cut the mustard if you want to emulate Federer, and in that case, you need to invest in a quality pair of tennis shoes. Tennis shoes are built with support in mind, but also need to be lightweight enough for you to be able to fly around the court, with a little bounce in the heel when you need it.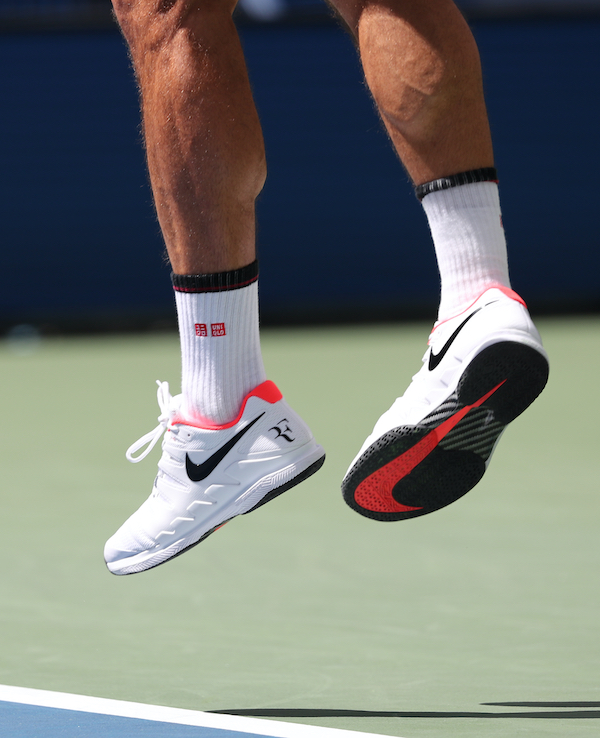 There are countless different types of tennis shoes on the market, with Adidas and Nike dominating the big-name scene. Of course, this is also reflected in the tennis shoes worn by the top 10 ATP players at the moment also. Except for one or two, the entire top 10 wear shoes by either Nike or Adidas.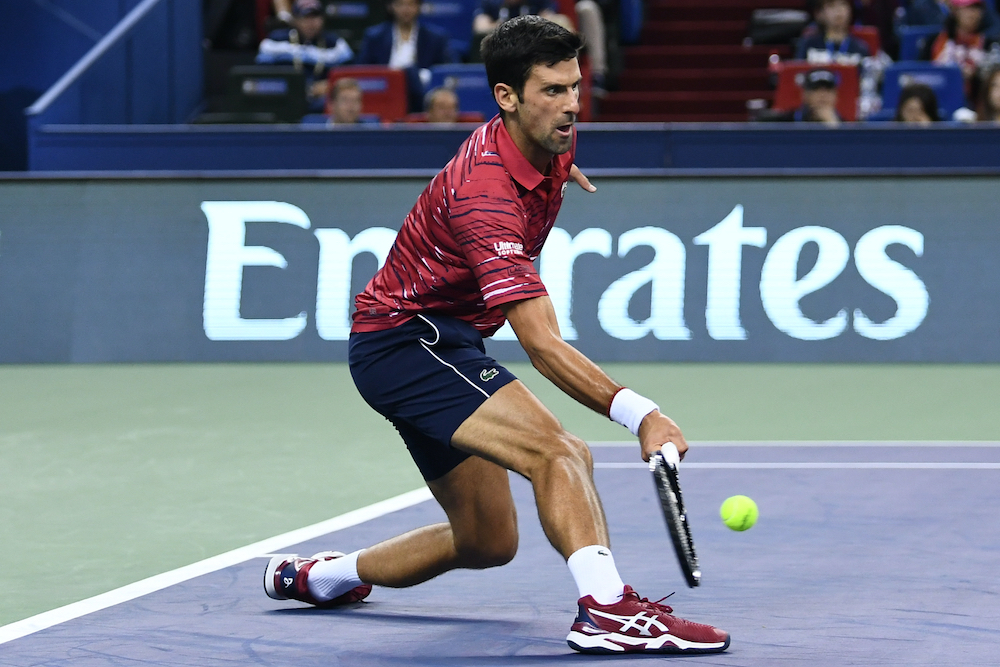 What you should bear in mind however is that most players also have endorsement contracts, and this often includes the shoes they wear. As a result, they wear all the company's apparel and be paid a very tidy sum for it. If you want to emulate Djokovic, Nadal or Federer, you're going to have to pay a little extra to own the big named brands they wear on their feet whilst playing.
Of course, you want to know what shoes the top 10 players are wearing. The top 10 rankings change according to performance, but at the current moment (summer 2019), the standings are:
ATP Ranking
Novak Djokovic
Rafael Nadal
Roger Federer
Dominic Thiem
Alexander Zverev
Stefanos Tsitsipas
Kei Nishikori
Karen Khachanov
Fabio Fognini
Daniil Medvedev
So, what shoes do these big hitters wear on the court?
Most players tend to stick to what they know, however as we mentioned earlier, this can depend also upon their endorsement deals at the time. In some cases, shoes aren't included in deals, and that means that players can continue to wear their classic favorites, regardless of the company they're signed up for bags, rackets, clothing, etc. This does vary, however.
Who's Wearing What?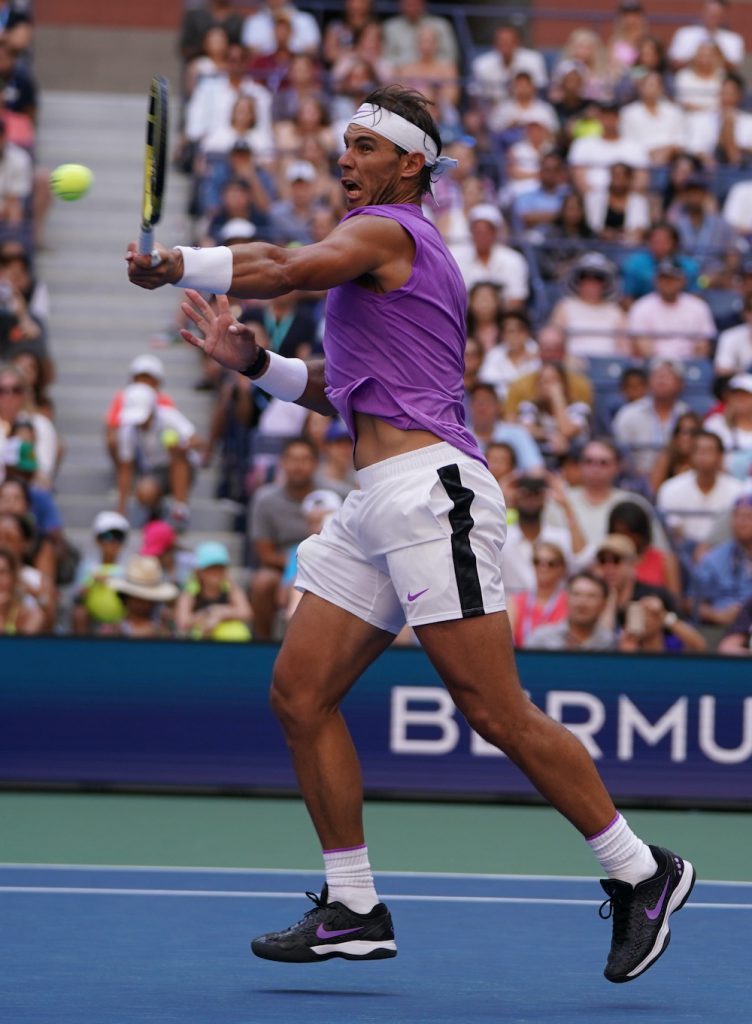 World number one and Wimbledon champion Novak Djokovic is now using Asic Court FF2 Tennis Shoes. These shoes are classic in design but are also engineered to be lightweight. This gives Novak his speed around the court, but the in-built support also gives peace of mind.
Imagine the amount of running, twisting, and turning that goes on during the course of a three-set match alone, you'll understand why lightweight is always better, which is something Djokovic's shoes give him. Heavy shoes will hold you back and mean you don't catch those rallies on the baseline, or make it to the net in time for a clever lob.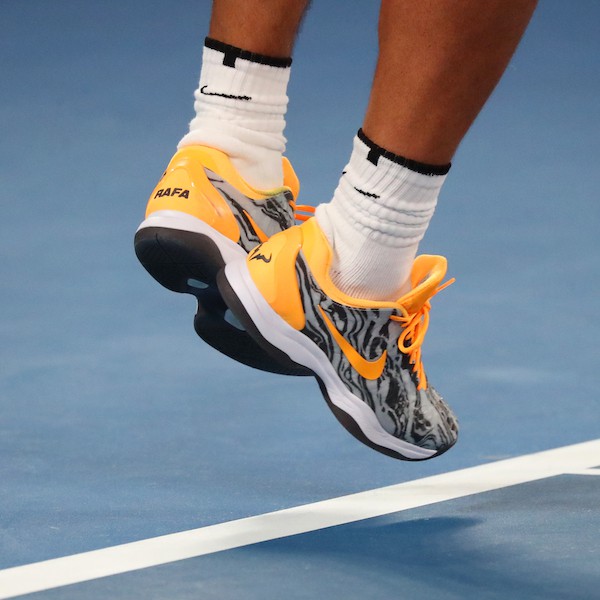 In comparison, world number two, Rafael Nadal, is a Nike fan through and through, having stuck with the brand since his early days. Nadal is currently wearing the Nike Lunar Ballistic 1.5, one of the most popular tennis shoes over. These shoes give a good amount of support, whilst remaining lightweight for quick movements on the court. Nike tennis shoes look the part, which is probably why they're so popular worldwide in terms of consumerism. The iconic 'swoosh' mark seems to sell!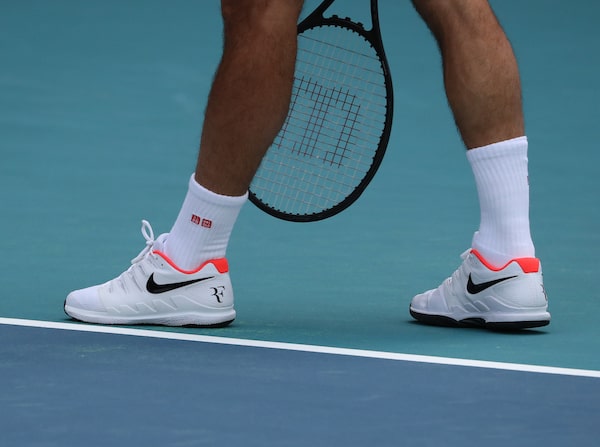 Nike
That brings us to the iconic Mr Federer. Former world number one and all-time great. Federer is a firm Nike favorite once more, but he prefers to go for the Nike Zoom Vapor 9.5 Flyknit. This is a shoe that places a lot of emphasis on a lightness that allows Federer to literally bounce around the court and reach those impossible shots. This is also durable shoe, built to last for a long five-setter, and it has built-in support to cushion the foot for extra comfort. This is one of the best-selling shoes worldwide, probably because it is seen regularly on the feet of Federer!
Beyond The Top Three
After the famous three of Djokovic, Nadal, and Federer, we still see some extremely popular players, who are attempting to stake their claim on the dizzy heights of world number one. Dominic Thiem is currently sitting at number four, and he is another Adidas fan.
Adidas
Thiem is often seen wearing the Adidas Barricade 17, the original of which has been around for more than 20 years. As slight technological changes occur, the Barricade model is updated, but the general theme remains the same. This shoe is renowned for its durability, comfort, and support whilst flying around the court, and it is also lightweight, with a little bounce in the heel. World number six, Stefanos Tsitsipas, is also an Adidas Barricade 17 wearer, remaining loyal to one of Adidas' oldest shoes.
Next up we have world number five Alexander Zverev. Whilst possibly not the biggest household name, Zverev is making waves on the ATP tour, scoring highly at majors. Another Adidas loyalist, Zverev favors the Adizero Ubersonic 2, which is a slightly different choice to many of his competitors. This tennis shoe is designed with an extra bounce in mind, which allows him to move faster on the court.
Kei Nishikori Tennis Shoe
Kei is a Nike fan, often changing his model of shoe, but always sticking with a Nike option overall. This is the same for Karen Khachanov, however, he seems to favour the Zoom Vapor model, which is designed for speed and durability over the course of a long match.
The Final Two
Rounding up the top ten on the ATP tour we have number nine, Fabio Fognini, and number ten, Daniil Medvedev.
Fognini makes a different choice to the rest of his competitors, shunning the big names of Adidas and Nike, and instead of going for the relative newcomer to the tennis world, Asics.
Asics
Having been around for many years Asics is becoming a popular option for players outside of the top ten. And perhaps not within reach of the big sponsorship deals with Nike and Adidas. This doesn't make Asics lower in quality. However as the Asics Gel Resolution 7, seen on the feet of Fognini, is designed for total durability. Also to keep the foot stable during gameplay. The gel support is also extremely comfortable and gives a little extra bounce.
Finally, we have Medvedev, who is signed to Lacoste and is often seen wearing their total apparel, including shoes. A little like Asics, Lacoste may seem a less popular choice, but this is a name that has been evident in tennis for many years!
Looking For a New Pair of Tennis Shoes?
Now you know what tennis shoes the top ten on the ATP tour wear, which will you choose?
It's important to shop around to find the best deals, especially if you're looking for the biggest models from Nike and Adidas. High-quality tennis shoes are not cheap, but they are necessary if you want to play to the best of your ability, and remain safe and injury-free at the same time.
Many people wonder why you cannot wear regular running shoes when playing tennis, and why you need to purchase a separate set of tennis shoes. The reason is that tennis shoes are designed with the tennis court and the types of movement you make whilst playing, in mind. Tennis shoes are designed to allow your foot to remain stable in your shoe. And also help while you are moving sideways and back again, a common movement when playing the sport.
High Quality
Good tennis shoes also feature a certain amount of ankle support, which regular running shoes do not have. There is also a type of support at the front of the foot, provided you opt for a high-quality pair. This is often a gel or bubble technology, but it cushions the foot and holds it in place, minimizing the feel of impact with the court.
Choosing low-quality tennis shoes could do more than hinder your game. And it could cause you to turn an ankle whilst playing, develop blisters, and could also put extra pressure on your knees or back. Rather than investing a huge amount of cash in the clothing and even the best racket around. It's probably a better idea to think from the bottom up and work towards purchasing a high-quality pair of tennis shoes first and foremost.
Idol Tennis Shoes
Many ATP players know what they need to build their game, and they know this isn't always about skill. And often about the shoes and the equipment they use. By using the same winning mentality, perhaps you could be breaking your way into the top 10 in the next few years!