When you think about buying a tennis racket, you probably don't give much thought to the strings. The problem is, if you avoid the strings, you avoid playing good tennis!
There are various different types of strings and within that discussion, you also have to consider the tension and gauge. The best players on both the ATP and WTA tours all have their own preferences, which covers the brand of strings they purchase and the tension and gauge measurements they go for, including restringing.
It can become a little complicated, and if you're new to racket buying, it's important to look into this issue and find out as much information as possible. The main types of strings to opt for are:
Natural gut strings – The original strings, but these don't last as long as some of the newer options
Synthetic gut or nylon strings – A good all-rounder choice
Multi-filament strings – More durable than natural gut strings but with similar characteristics
Durable polyester strings or Kevlar strings – These are most commonly see on the professional circuit and are ideal for those who tend to break their strings on a regular basis. There are also new strings within this umbrella category which are a little softer, and therefore give less vibration and pressure on the arm when hitting a shot.
You also need to think about string gauge and tension. Thin strings are ideal for honing your skills but are prone to breaking. In that case, thicker strings will last longer but may not give you the same playing experience. Gauge size goes from 15, which is a thick string, up to 19, a very thin string. You'll see an L after the measurement which stands for light.
Thin strings are more powerful but they're going to break. For that reason, you'll see pro players changing their rackets, purely because they've hit a shot too hard and broken a string!
Tension-wise, that is a personal choice and something you will see the ATP and WTA disagreeing on widely. Everyone has a different opinion this, but the medium range is best for most people. If you have a higher tension on your racket you won't get as much power but you will have more control, but if you go lower you'll get the vice versa effect. High tension also tends to give you an aching arm at the end of the day.
To help you make a decision, let's look at the tennis strings the top 10 ATP and WTA players use.
Racket String Preferences of the ATP and WTA Top 10 Players
Despite currently being ranked number 10, the most famous female player is Serena Williams. Williams opts for a Wilson Natural type of string and a tension of 64lbs. This is a relatively low tension, as she likes to opt for extra power.
Not all tension measurements are made public, but we do know the specific types of strings which players use. This is because these are brand named, just as rackets and apparel are, and many players have endorsement deals as such.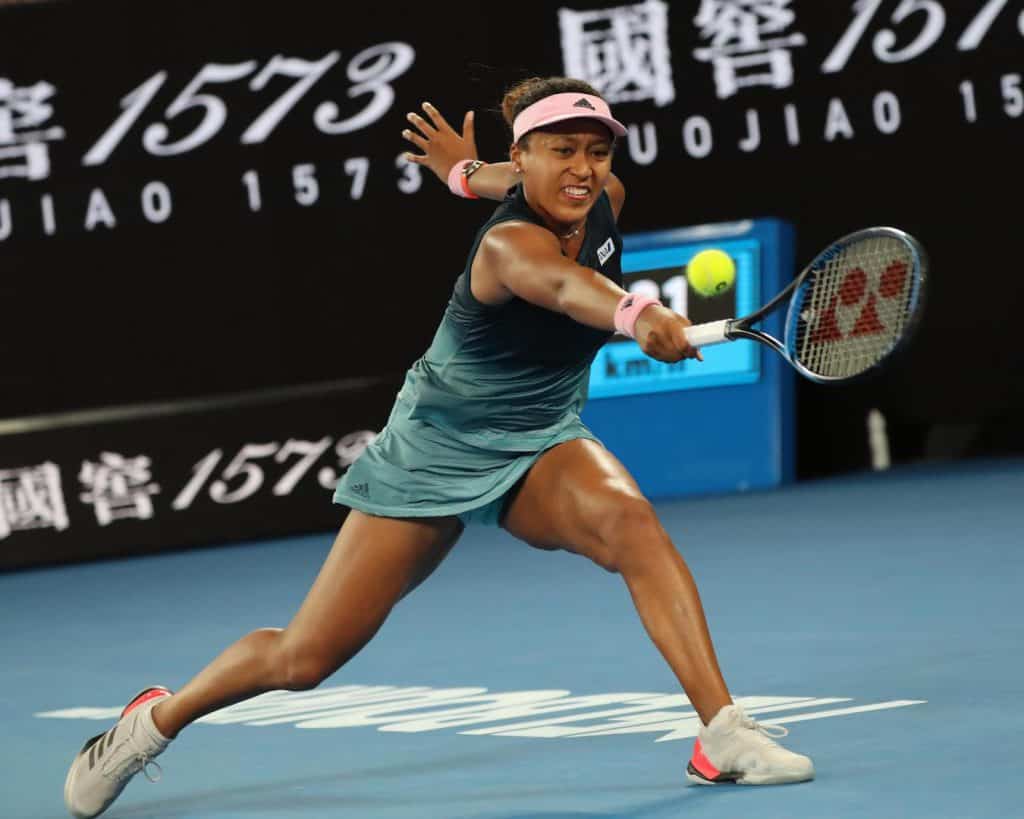 For instance, within the women's game, we have number 2 Naomi Osaka, who uses the Yonex Poly Tour Strike 1.25mm on a regular basis. She has openly said that she prefers these types of strings for their durability and the amount of power she is able to generate on each shot. On the other hand, Sloane Stephens prefers to use Luxilon Big Banger ALU Power. As the name would suggest, this type of string is designed with optimum power in mind, allowing Stephens to hit shots with as much power as possible, to overpower her opponents
Current world number one, Ashleigh Barty uses the Head Hawk Touch 17 Strings, with Simona Halep opting for the Luxilon power strings, just like Slone Stephens.

In the men's game, we have a similar mixed bag to consider. World number one Novak Djokovic opts for Head Graphene 360 Speed Pro, a string which is designed with durability in mind but does generate a large amount of power, especially on forehand shots. World number two, Rafael Nadal, sticks with one of the biggest names in tennis, with the Babolat RPM Blast. As the name would suggest, these are strings which go for power also, but on backhands as well as forehands. This is why Nadal's most powerful shots really do knock you off your feet!
The iconic Roger Federer has long been a Wilson advocate and he carries this through to his strings, opting for the Wilson Natural Gut strings, but occasionally going for the Luxilon Big Banger ALU Power option too. He sticks with a tension of around 48.5/45lb, which gives him the power yet the finesse he's so famous for.
Also of note within the men's top ten is Stefano Tsitsipas, who opts for the Luxilon version, but going for the 4G brand of strings, rather than the Big Banger ALU Power option which many male and female players tend to gravitate towards. These are very similar in nature to the latter, however, they are a little more durable and as a result, create slightly less power, although snap far less often.
Kei Nishikori is a Wilson fan, just like Federer, opting for the Wilson Natural Gut but also the Luxilon on occasion.
As you can see, it's a real mixed bag in terms of what strings to choose and which strings the top players in the men and women's games go for. Luxilon strings are extremely popular for both men and women, with the Big Banger ALU Power being one of the most commonly used. As mentioned, these generate terrific power, especially on a strong forehand, but they are prone to snapping, simply because they are so thin. This is a pay off you need to bear in mind; you can opt for durability but you won't get as much snap or power on your shots. On the other hand, if you go for power, you might snap a string on occasion!
The two tennis names of Babolat Tennis Strings and Wilson come to send and third in popularity respectively. Nadal and Federer both use these types of strings, and have done for many years. You will often find that tennis players are quite superstitious and don't like to mix things up too often! If they find a string which suits their game, they will continue with it until a new technological advancement within the same model comes out. Of course, this may change with endorsement deals, but generally speaking, once a player finds a string which suits their game, they will stick with it over the long-term. This is a habit you also need to adopt if you want to become a top player in the game at some stage too.

Considerations When Purchasing Tennis Strings
It's a good idea to play around with tension and gauge as you get used to the shots you're going to favour. Will you have a powerful forehand like Serena Williams, or will you opt for cheeky, seemingly impossible shots, like Roger Federer. Sometimes you need less power and more control, and how you do this depends completely upon your game and style.

Shopping around is vital if you want to find a good deal. If you're opting for some of the most popular strings, such as the Luxilon range then you may find prices are a little higher. This is simply because they are endorsed by so many of the top players on the ATP and WTA tours, but it is possible to find them at a good price if you do your research. Similarly, Wilson and Babolat are popular but can be found at competitive prices if you shop around.
In terms of finding your ideal gauge and tension, this is a personal choice you need to work with. As mentioned earlier, it depends on your game and what types of shots are going to be your signature go-to options.
When you purchase a new racket you will probably be asked at source how you want it to be strung. You may find yourself stuck for an answer if this is the first time, and in that case, ask for advice from the person you're purchasing the racket from. They will be able to show you the default choices, and from there you can work out what is suitable for you, and what isn't. You'll be able to feel the racket as you play, and you can then have your strings altered according to what you need. A looser string will give you the power you need, but a tighter string will give you more control.
At the end of the day, choosing tennis strings can be a confusing process. Buying a racket is never a simple endeavour, but you will not come to a firm conclusion without first trying out different options. Remember, restringing is entirely possible, so take advice and go from there.