If you're a budding golfer or you simply want to learn more about the equipment the top men and women players use, you'll probably be interested to learn which golf balls they favour over all others.
Whilst you might not want to copy their specific choices, it may help you to decide which could be best for you, or give you some ideas if you're just starting out. Of course, you might simply want to emulate your hero, and in that case, you'll be keen to use the same balls as them.
First things first, why is a golf ball so important?
Everyone has preferences when playing golf, and some players prefer harder balls, some prefer softer balls. It all depends on the types of shots they are used to playing, and whether they want accuracy or serious power. Many professional players opt for soft fall balls, and these give optimum playability and finesse. If you want serious power and distance, then a harder ball is the best option, and of course, these are more hard-wearing than a soft ball.
Let's look at which balls are favoured by the top ten men on the PGA tour, and then look at the top 10 women on the LPGA tour. What's in The Bag? Golf Clubs of The LGPA Top 10 Players

Which Balls do The Top 10 Men's Players Use?
We should bear in mind that the top 10 rankings are changing with every event. At the current time however, the top 10 rankings look a little like this:
Brooks Koepka
Dustin Johnson
Rory McIlroy
Justin Rose
Tiger Woods
Francesco Molinari
John Rahm
Bryson DeChambeau
Justin Thomas
Patrick Cantlay
There are some seriously big names in that list, and finding out which equipment they use in general is something most budging golf players want to do. So, which balls do these players use over and above the others?
World number one Brooks Koepka uses the Titleist Pro V1x and mixes up the rest of his equipment across various different brands.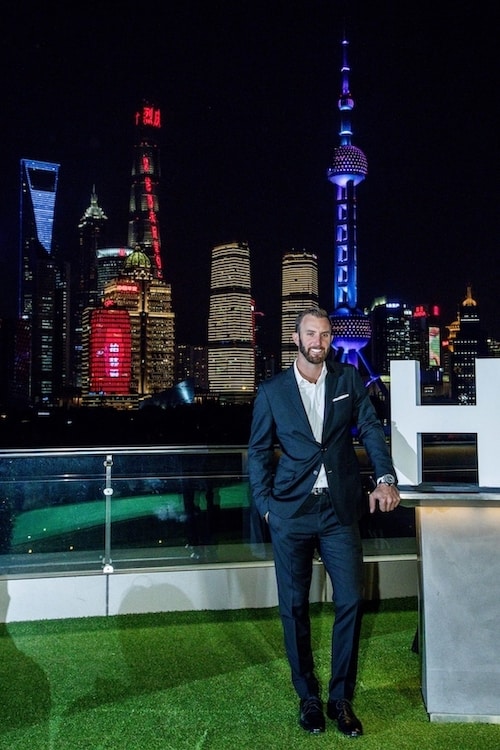 World number 2, Dustin Johnson, is a big fan of the TaylorMade brand, and as such he is playing with the TaylorMade TP5x. You'll find this ball extremely popular with many of the top players on the tour, and if you want to purchase these for yourself, you will need to shop around a little first – they're quite expensive as a result of all the big names which endorse them! Rory McIlroy and John Rahm are two other top 10 players who use this type of ball on a regular basis.
This type of ball is considered optimum because it has a very thin layer on the outside which gives a spin and can reach height when hit in the right way. This type of call is designed to travel longer and higher than ever before, whilst giving you the spin you need. In that respect, the price tag is justified for the quality of shots you're getting.
Justin Rose is another TaylorMade ball fan, but he opts for the TP5, and not the TP5x. This is a step down from the most up to date version, but Rose prefers this ball because he feels it suits the way he plays his game. This is something you should take note of – you don't always have to go with the most up to date model on the market; if you find a ball that really suits your game then you stick with it until you find another which helps you do more.

Tiger Woods does things a little differently and opts for the Bridgestone Tour B XS golf ball, ahead of the Nike option he used previously. Of course, Nike pulled out of the golfing arena and as a result, athletes using their equipment had to look elsewhere. This particular ball suits Woods' game because it gives a further distance to his shots, thanks to the technology infused within the core of the ball. This particular ball is a great option if you want to get a serious distance on your shots.
Francesco Molinari used a Titleist Pro V1 in the past, a step down from the ball which the current world number one uses, but this year he has signed a new deal with Callaway and will use the Chrome Soft X this current season. This ball is currently a prototype, so whether it will stick around or not remains to be seen!
Bryson DeChambeau is a Bridgestone fan nowadays, just like Tiger Woods. The final two players to mention are Justin Thomas and Patrick Cantlay, who both choose the Titleist Pro V1x.
Which Balls do The Top 10 Women's Players Use?
Now we know which balls the top 10 men use, what about the women?
As it stands currently the top 10 on the LPGA Tour are:
Jin Young Ko
Jeong Eun Lee
Sung Hyun Park
Lexi Thompson
Minjee Lee
Brooke M Henderson
Sei Young Kim
Nelly Korda
Ariya Jutanugarn
Hyo Joo Kim
World number 1, Jin Young Ko, opts for the same brand as the men's number one, namely the Titleist Pro V1, however, she doesn't go for the x version and sticks with the model before. Just like Rose, she feels the ball suits her game the best. Brooke Henderson, Nelly Korda, and Sei Young Kim both follow this pattern, choose the same ball as world number 1.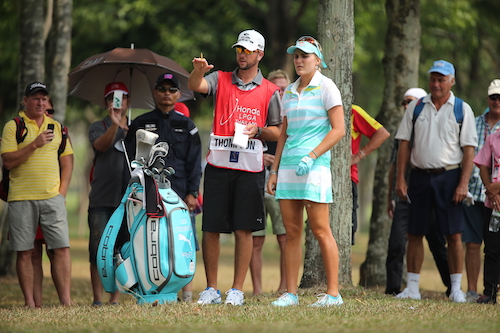 Similarly, world number 2, Jean Eun Lee, is another Titleist ambassador, choosing the same ball, but opting for the V1x version instead. Sun Hyun Park and Ariya Jutanugarn also agree and follow the same route.
There are three players who do things a little differently, namely Lexi Thompson, Minjee Lee, and Hyo Joo Kim.
Lexi Thompson follows in Tiger Woods' footsteps and opts for the Bridgestone make of tennis balls. She chooses the Bridgestone Tour B X Ball currently, mentioning that it suits her game best and gives her supreme power and distance over her shots.
Minjee Lee and Hyo Joo Kim both opt for the Srixon brand. Lee chooses the Z Star VX and Kim opts for the Z Star Arrow. This is a brand that is making waves in the golfing equipment world and there are likely to be several more players breaking into the LPGA top 10 who use this type of ball in the future.
Choosing Your Ideal Golf Ball
It might be that you simply want to follow in the golfing footsteps of your favourite player, and as a result, you'll choose the same ball that they use. That's fine, but remember to shop around for the best deal. Some of the most technologically advanced golf balls can be quite expensive and it's worth looking for lower prices wherever possible.
Of course, it could also be that you want to develop your own game and you're simply looking for advice from the pros in terms of what they like and don't like about certain brands and models. Justin Rose is a great role model in that regard, as he has chosen to stick with an older model of TaylorMade ball, despite the fact that many of his competitors have chosen the newer version of the same ball.
Rose simply feels that he has found the ideal fit for his game and in that case, he's sticking with what he's found. That is something you should bear in mind also. Just because something new comes out onto the market, it doesn't mean it's going to be the ideal fit for your game. Every player has different strengths and weaknesses, and Rose obviously feels that the TaylorMade ball he uses fits his strengths and reduces his very few weaknesses. This is your aim.
There are countless different balls types and they all aim to enhance a certain part of your game, fitting in with what your strengths currently are. With that in mind, it's a good idea to have an assessment from a professional and seek advice on the type of ball which will fit your game. Remember, golf balls are quite expensive, and you need to get the decision right from the get-go unless you want to spend unnecessary money on a hit and hope endeavor!
By seeking advice you'll be able to find a ball that suits your swing style and the aims you're reaching for. From there, you can save cash by opting for the best choice first, and you can get to work on improving your game right away. It may be that you stick with your first choice of a ball for the foreseeable future, or it could be that a new brand comes onto the market and you feel it would suit you better. In that case, it's fine to switch, but only if you feel it will improve your game considerably.
If you want to copy the world's best, you need to be personal in your approach. Take advice from professionals but go with what you feel is best. Shop around for great deals and of course, get practicing!