Hiking is a pastime which requires fitness, curiosity, and of course, supportive shoes and clothing. When moving around difficult terrain, it's important to be comfortable but also to know that your clothing, from your shoes to your shorts and you shirt, is going to stay where it is supposed to, and that the material is not going to cause you to sweat excessively.
For ladies who love to hike, there are specific hiking shorts to choose from. These are usually made of specific materials which are not only lightweight to feel like a second skin, but the material is also designed to be moisture wicking. This means that sweat is taken way from the body and that it doesn't become wet, sticking to your skin and causing chaffing and a generally unpleasant feeling.
Hiking shorts are usually quite tight and certain products show a fair amount of skin, but this is for a reason. During hot weather especially, when hiking, women need to feel that they're not being held back. These shorts however are surprisingly supportive and comfortable. The problem is there are many of them on the market, so to help you out, we've reviewed some of the best around. This should help you in your purchasing decision!
Best Ladies Hiking Shorts Reviewed
Columbia Women's Saturday Trail II Knee Pant
This pair of women's hiking shorts is the perfect choice for women who want to remain cool whilst out and about, but for the woman who also doesn't want to show to much skin. The length if just below the knee, and whilst they're tailored in shape, i.e. not too loose, they're a very fashionable choice, which could actually be worn in general, when not hiking! You can also choose between 10 different colours.
Can be purchased directly at Columbia website
The shorts are made of an elastane and nylon mix, which his water repellent and also stain repellent – perfect for those muddy and dirty environments! The material also has UPF 50 protection built in, to help protect you against sun damage whilst out and about. There are two side pockets which have a hook and eye fastening and there are also two pockets at the back too. The waistband is comfortable with part elastic, and an adjustable section on the knee, so you aren't held back whilst you're out exploring the Great Outdoors.
Pros
Longer length, ideal for women who don't want short shorts, or those who are hiking in slightly cooler temperatures
Water and stain repellent fabric, which also has sun protection built in
Partially elasticated waist for ease of movement and adjustable knee section
Available in 10 colours for fashion kudos
Several pockets for carrying small items
Cons
Depending upon the colour choice, the price could be quite high
The waistband is only partially elasticated, which could be an issue for some
Not all women will appreciate the longer length, so this is a point of preference
ODODOS High Waist Out Pocket Yoga Short
These shorts are a great choice for women who don't only hike but those who also love to be active in other ways, e.g. yoga, pilates, running, or simply hitting the gym. The price range is also very attractive, making this product a budget choice for all women. There are also many different colour options to choose from.
The shorts have a high waist which has tummy control technology, and is made of a mixture of polyester, nylon and spandex. The spandex means that the shorts are slightly stretchy, which is perfect for moving around across different terrains.  There are pockets on either side of the shorts, which are large enough for items such as mobile phone, or small change. The shorts are also mid-length, i.e .they fit mid=calf, making them not too short and not too long either.
Pros
Multi-purpose shorts which can be worn for many different sports, aside from hiking
Budget choice, ideal for those with slightly less to spend
Many different colour options available
High waisted design with tummy control
Pockets on either side for small items
Four watch stretch with spandex content
Cons
Mid-thigh length may not suit every woman, again making this a preference point
Some users complained that the shorts rolled up a little on the leg
Little Donkey Andy Women's Stretch Quick Dry Shorts for Hiking, Camping, Travel
These are a perfect choice for women who like to dress slightly more conservatively whilst out and about, and who don't want to go for skin tight options whilst hiking. The shorts are loose fitting and have a belt. The length is slightly below mid-length, and the price is also quite low, so they're a budget choice too.
Can be purchased at Little Donkey Andy website
You can choose between six different colour options, with polyester and spandex mix. The spandex content is only 10%, but this is enough o give you ease of movement whilst exploring different terrains. The shorts are four way stretch and the material is water repellent, and quick drying. There is also UPF 50 plus built in, and a partially elasticated waistband, with loops for a belt. There are two pockets on either side which zip close and one to the back also.
Pros
Good option for those who want looser fitting hiking shorts
Could be worn as a fashion option also
Several different colours available
Good price
Spandex content makes the shorts easy to wear, with four way stretch
Belt loops can accommodate a belt
Zipped pocket
UPF protection built in to the material
Cons
A conservative-looking design which may not suit everyone, e.g. younger hikers
Belt not included
Some users complain that the material doesn't feel as lightweight as some other products in a similar price range

White Sierra Women's Crystal Cove River Shorts
This is a fashionable choice of shorts which could easily be worn for fashion, as well as when out and about hiking. Choose between a beige shade and black, with sizes ranging from small to extra large. The shorts are made of 100% nylon, so they don't have a stretch element. This could be an issue for some women, and fasten with a button and zip fly. The material does have UPF 30 sun protection built in for use out in the sunny weather, and the size panels do have a slight elasticated content, so whilst certainly not the stretchiest of shorts, there is some space to move.
Can also be seen here at Walmart
The material is designed to be quick drying, although not water repellent. Depending upon the colour choice and size you opt for, the price is mid-range, so not the cheapest, but certainly not the most expensive either.
Pros
Fashionable shorts which could be worn for hiking alone or for general use during the summer months/on holiday
Two colour choices
Slightly elasticated side panels
Four pockets, two to either side
Quick drying material
UPF 30 protection built in
Cons
No spandex content, so the shorts aren't the stretchiest in terms of movement
Only two colour choices, compared to many other choices with other products
Mid-price range
Royal Robbins Women's Backcountry Short
With 12 colour choices on offer, these shorts are flexible and fashionable. Again, these shorts are more conservative, i.e. not skin tight, but the length is a little shorter than some of our other reviews, at a high tight length. The price is also a little higher than some of the other products, but that can be attributed to the brand name. You could wear these shorts as a fashion option, as well as for hiking.
You can purchase directly from Royal Robbins website
The shorts are made of nylon and have reinforced seams for durability. The shorts fasten with a traditional button and zip fly and have cargo-designed pockets, one which has a zip fastening and five others which are simply slip pockets. The fabric s designed to be quick dry and has built in UPF protection, whilst also being wrinkle free.
Pros
12 colour choices
Fashionable design which can be worn when hiking or just for daily wear
Conservative, loose-fitting design
Durable fabric which is wrinkle free
UPF protection built in, with quick dry technology
Five pockets and one larger zip fastened pocket in addition
Cons
Slightly higher price tag
No spandex content, so not the stretchiest of options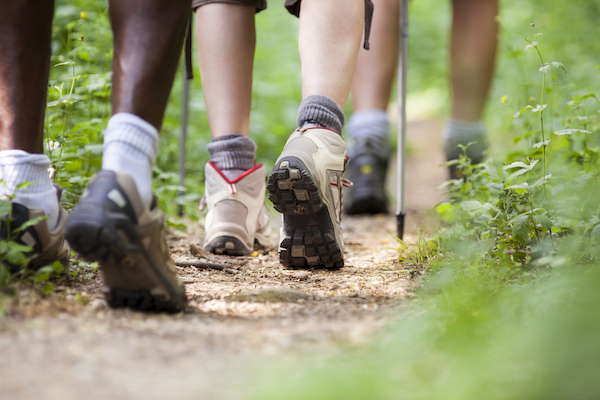 prAna Women's Tess Shorts
These shorts are a little more expensive than most of our other choices, but it depends on the size and colour option you go for as to the exact price. This is also down to the big brand name, which should give you peace of mind in your purchase. The shorts come in 8 different colour options and they are a fashionable design, with cargo style but a shorter length. These are ideal for younger hikers and those who simply want to be fashionable.
You can purchase directly from PrAna website
The material is machine washable and slightly look fitting, and the shorts can be worn rolled up or down, for extra flexibility. There are pockets on both the front and back, and belt loops if you want to add a belt to your outfit. Overall, these shorts are probably designed more for fashion than with hiking perks in mind but they certainly look the part.
Pros
Fashionable design which can be worn rolled up or down
Big brand name for extra peace of mind in your purchase
Eight different colour options
Cargo design with pockets to either side
Can be worn with a belt
Cons
Higher price tag
Designed more for fashion than hiking use, but can easily be adapted
HyBrid & Company Womens 7″ Inseam Super Comfy Bermuda Walking Shorts
Our final review comes in 14 different colour choices, so there is sure to be an option for everyone! These shorts are mid-price range and very affordable for most people. The fabric is a cotton and spandex mix, making these shorts easy to wear and offer flexibility whilst out and about. The design itself is fashionable and could be worn for general use, not only for hiking or walking. The material is also lightweight, which is ideal for warmer days.
The shorts close with a button and zip fly and there are belt loops if you want to add a belt to your overall outfit. These are also very easy to wash, being suitable for washing machines and very quick to dry.
Pros
Fashionable shorts which can be worn for general use or hiking/walking
14 different colour choices
Mid-price range makes them affordable for most people
Mid-thigh length hemline
Mixture of cotton and spandex in the material, making them stretchy whilst out walking over different terrains
Lightweight material
You can add a belt to the shorts, due to the belt loops
Quick drying material
Cons
The fabric may be quick drying but it isn't water resistant or moisture wicking, which could be a problem for serious hikers or on very hot days
Conclusion
When purchasing the ideal pair of women's hiking shorts, be sure to shop around and find the ideal option for you. Everyone is different, and one size certainly doesn't fit all. Go with the design which you feel comfortable in, and opt for a material which has a certain amount of stretch to it, making your hiking and general walking endeavours much easier, and far more fun as a result.
The products we have reviewed all fall within the mid-price range, however two of them were slightly higher than average. This is something to weigh up in terms of how much you're happy to spend on your thinking shorts. Do bear in mind that if you are a serious hikers, it's best to splash a little more cash on items which are going to stand the test of time, rather than to have to keep replacing sub-standard equipment.
It goes without saying that your hiking shorts should be accompanied by a high quality pair of hiking shoes or boots, to ensure that you receive the right amount of support and shock absorption for your joints and bones, whilst you're exploring whatever Mother Nature has to offer.