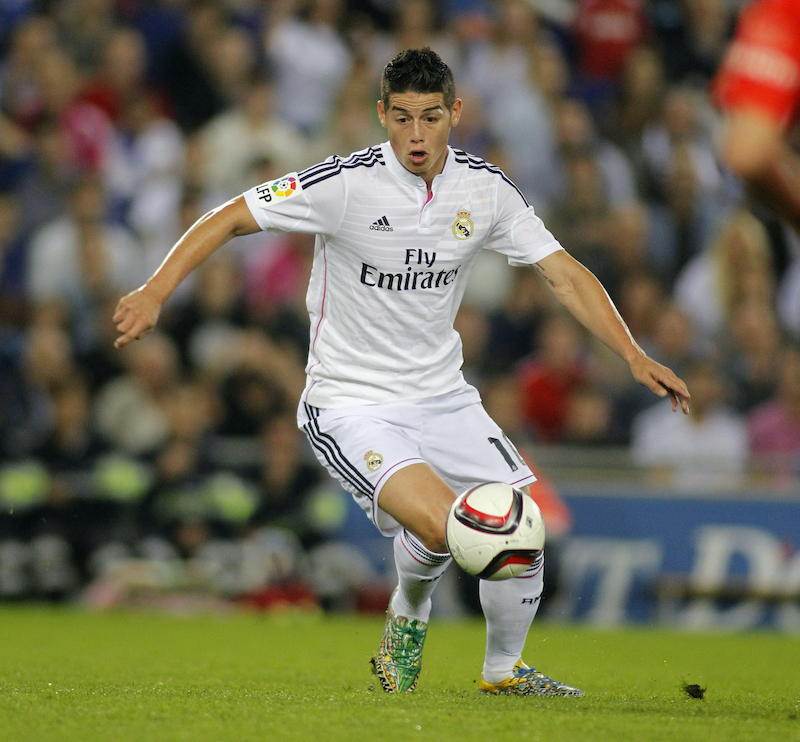 James Rodriguez Bio
James Rodriguez is a Columbian football player and plays for Columbia national team. He was born in Cucuta, Columbia on 12 July in 1991. His full name is James David Rodriguez. His father's name is Wilson James Rodriguez Bedolla and his mother's name is Maria Del Pilar Rubio. His early childhood was spent in the city of Ibague. In 2006 Rodriguez started his professional journey in the football arena. Since childhood, he was passionate about soccer. James Rodriguez is considered to be one of the best football players in the world.
He has the athletic body with the 1.80 m height. He has a bodyweight of 78 kg which is ideal according to his height and physique.
Personal life Wife and Girlfriend
James Rodriguez is married to Daniela Ospina in 2010. At the start they seem to be the happiest couple, and also share the public appearances together. In 2013 the baby girl is born named Salome Rodriguez Ospina. But due to some personal reasons, they have declared the separation in 2017.






	
Date of Birth
July 12, 1991





	
Place of Birth (Born)
Cucuta, Columbia



	
Nationality
Columbian



	
Turned Professional
2006



	
Height
5 ft 11 in (180 cm)



	
Salary Contract
$25.4 million



	
Net Worth
$30 million



	
Official Website
http://www.jamesrodriguez.com.co/



	
Twitter
https://twitter.com/jamesdrodriguez



	
Facebook
https://www.facebook.com/10Jamesrodriguez/



	
Instagram
https://www.instagram.com/jamesrodriguez10







Career:
James Rodriguez Rubio becomes the famous football player in 2014 when he showed outstanding performance in the world cup. James Rodriguez plays for Bayern Munich on loan from Real Madrid and Colombian national team. In the football world, he is only known as Rodriguez. He is considered to be the best youngest player as attacking midfielder or winger and brings a different playing style and technique.
Rodriguez scored his first professional goal in 2009 with an Argentine club Banfield. He also served as the captain in the under 20 National team of Colombia, due to his powerful playing. In world cup 2014 he becomes the man of the match when he scored the goal in the last one minute. According to the FIFA he is declared as the best player of the group stage in World Cup 2014.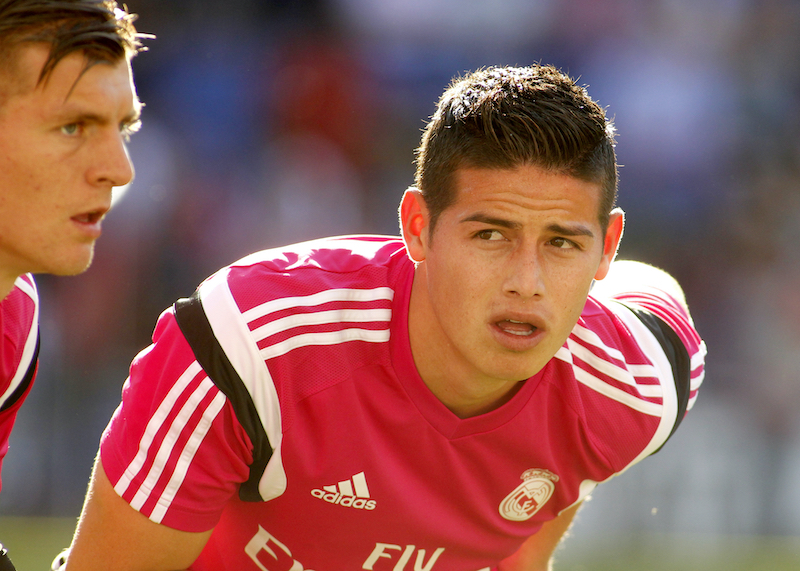 Real Madrid:
James Rodriguez is dedicated to playing with the famous football clubs like Real Madrid. Rodriguez signed the six-year contract with Real Madrid in 2014 for $80 million. He is considered to be the fourth most expensive player in the club. He is also known as the highest-paid player in the history of Colombia.
Net Worth:
According to Forbes Rodriguez basic salary is $21.4 million, and he earns $4 million from endorsements. According to the survey James Rodriguez has a net worth of $30 million. Besides his fixed salary he got a huge amount from the endorsements. He has contracts with the famous Chinese mobile company Huawei, Calvin Klein and Libertex. He also signed the deal with the sports shoe company Adidas, to wear the jersey of their logo. He also endorsed different products through commercial advertisements.
Social Media:
James Rodriguez is available on social media sites such as Twitter, Facebook, and Instagram. He has millions of followers around the world.
You may also be interested in the article on net worth about Tom Brady